Step 1: Select the correct job category for your job.
You may refer here for more information on what each category means. Fill in all the details for your job as shown below for the designated category.
For business use:
Select the type of help you need.

With GoGet Recruit, you can now hire to fill vacancies for longer term over a month or longer!

Hire for a variety of non-executive roles on GoGet Recruit ranging from the departments of Logistics, Sales/Marketing, Admin and Operations. Head on to app.goget.my for more info.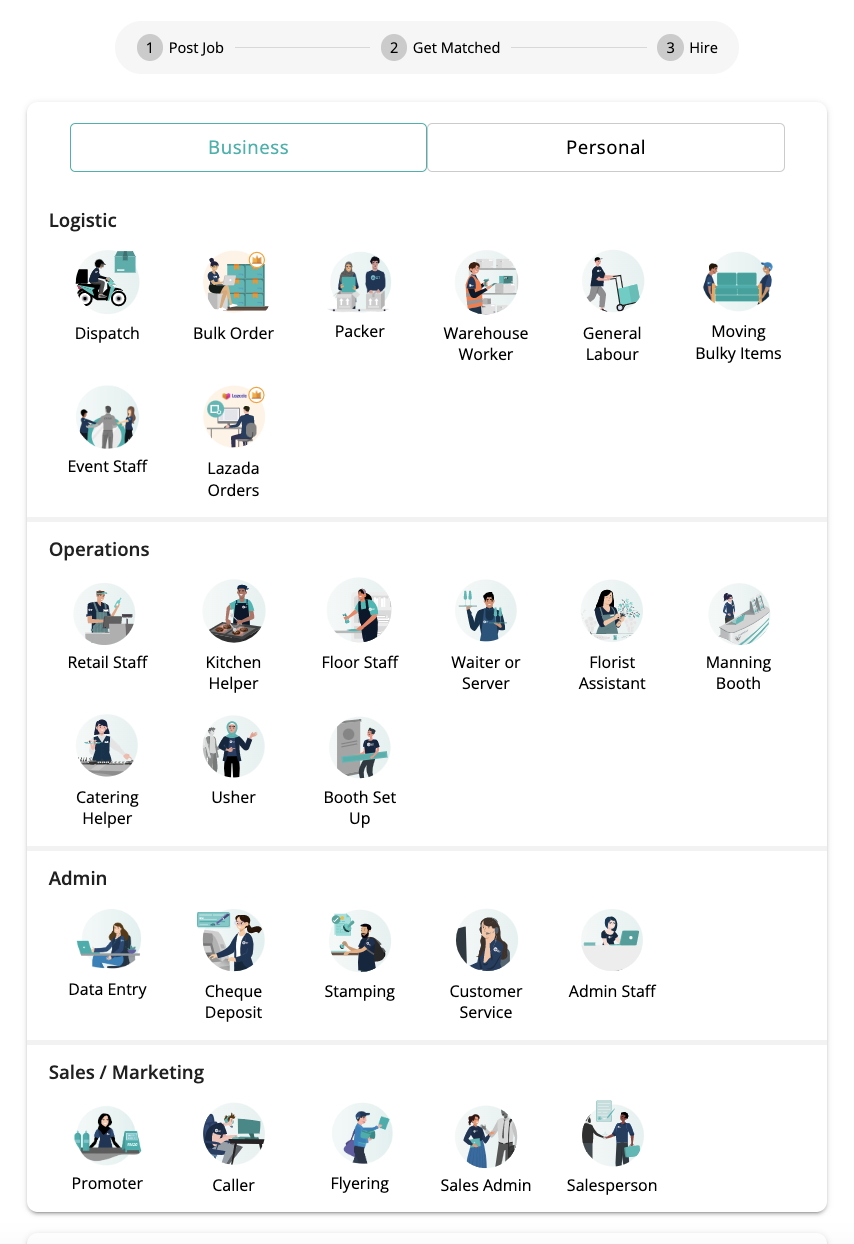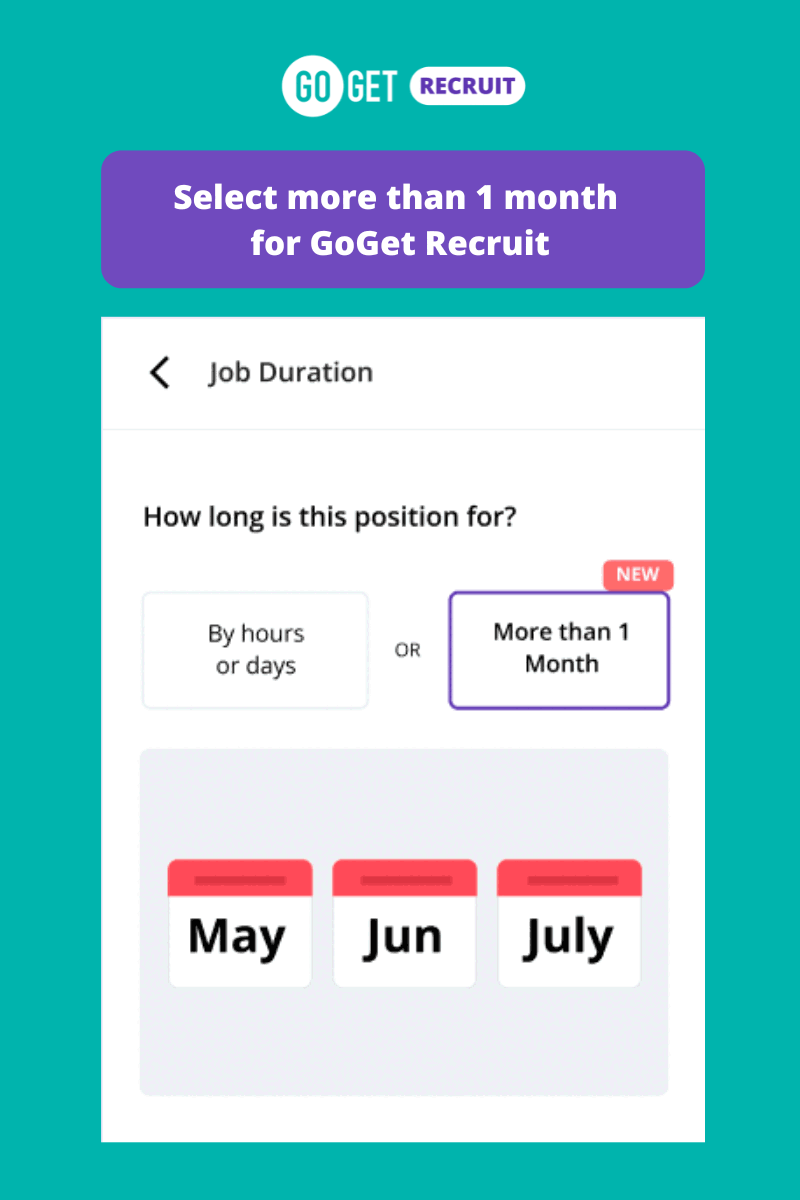 For personal use:
Select the type of help you need and hire by the hour.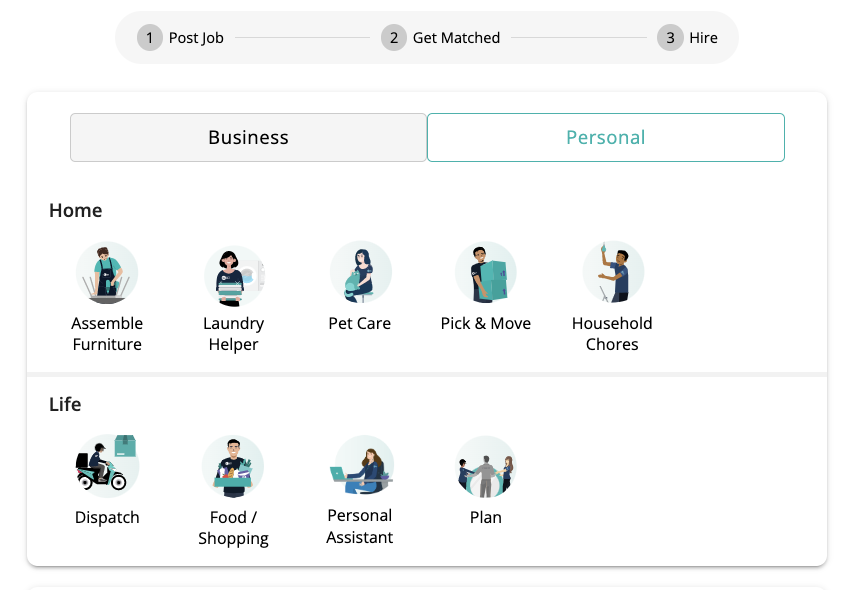 Example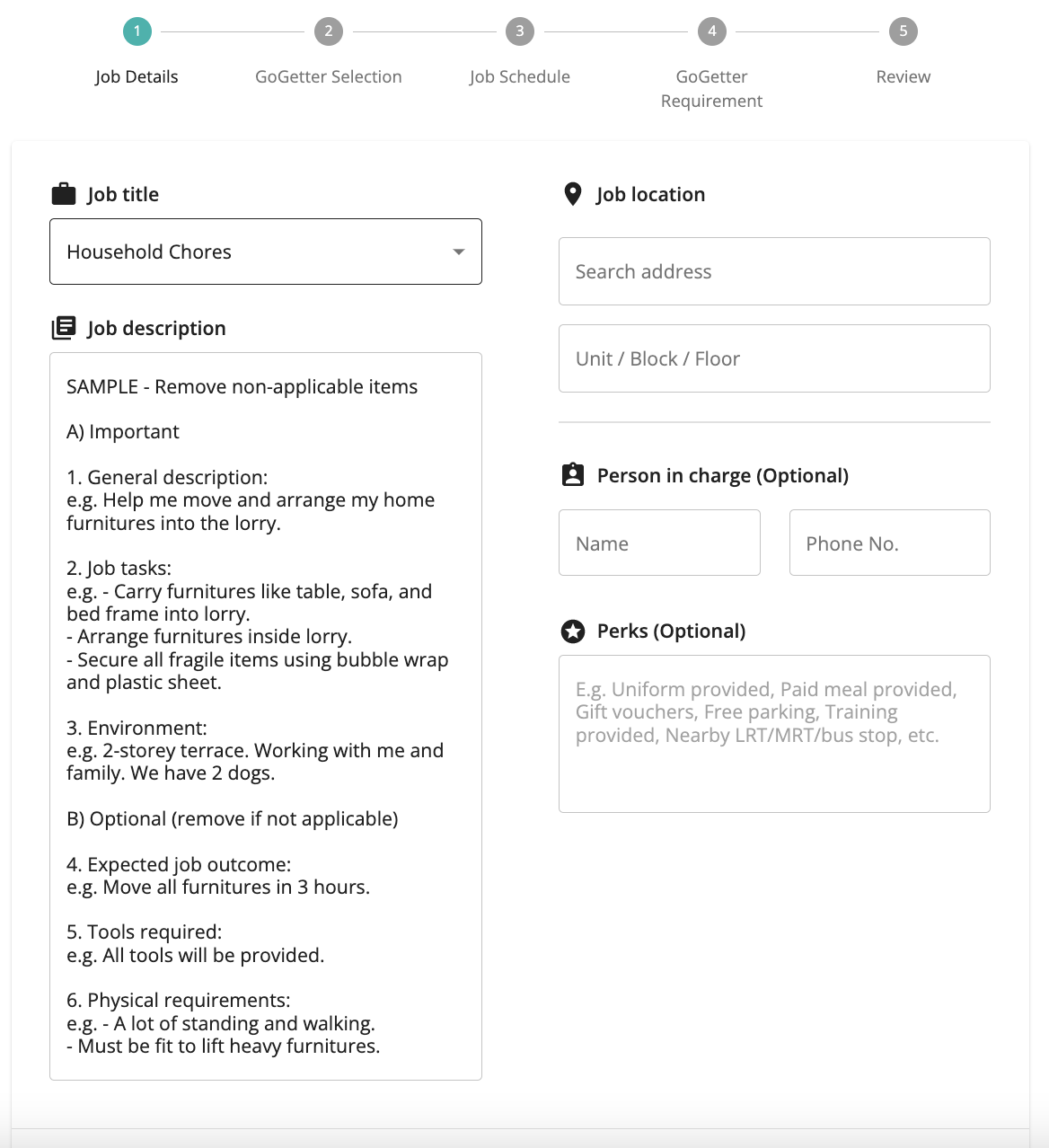 Example of a food/shopping job
Example of a Cheque Deposit job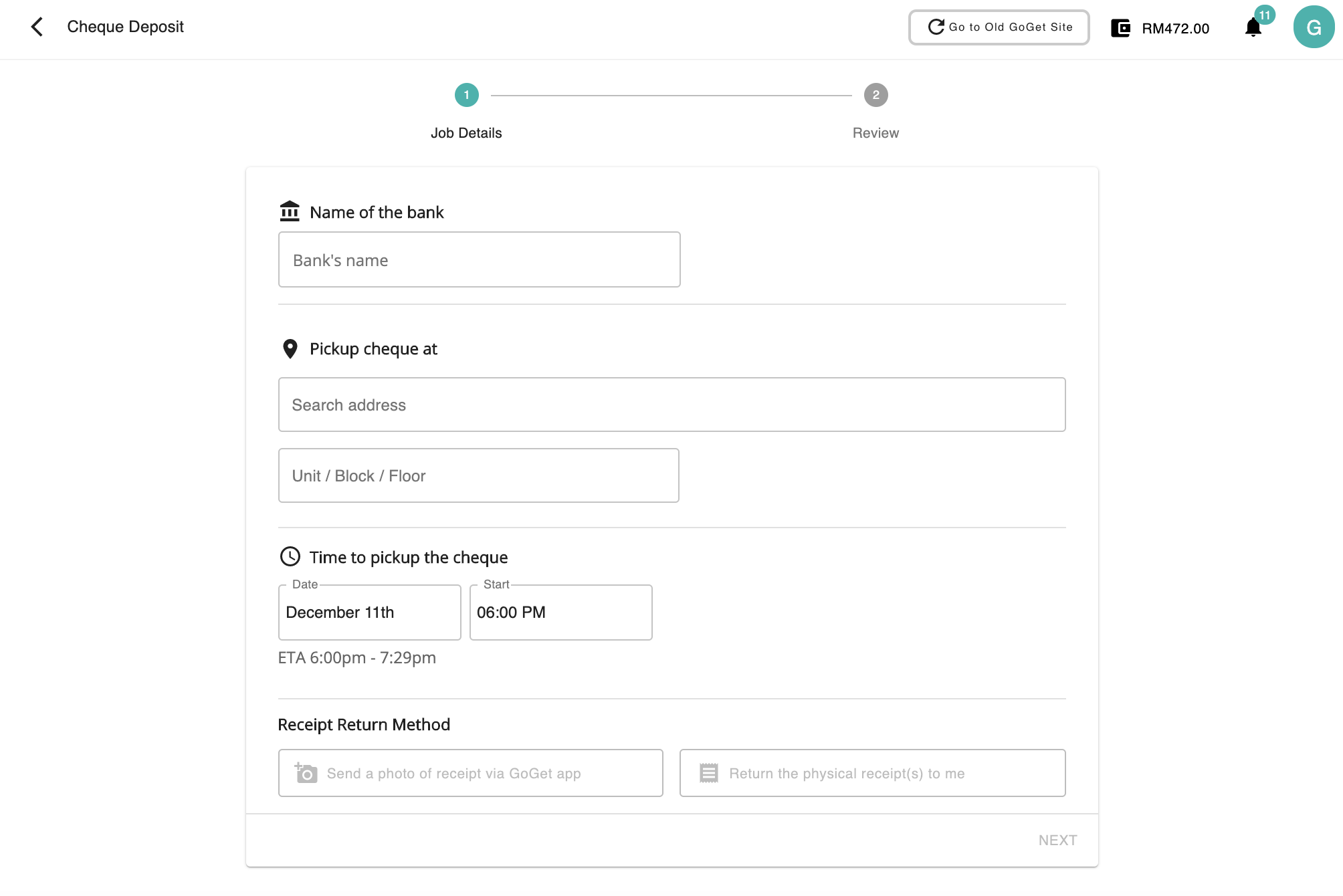 Step 2: Additional details for the job
Vehicle options - Pick the vehicle that suits your dispatch requirement. We have: Motorcycle, car, SUV. Feel free to turn this feature off if a GoGetter with any vehicle can do the job.
GoGetter Selection -
Any GoGetter - This will find you the first GoGetter who is interested in doing your job. You have the ability to turn on the 'Auto approve GoGetter' option if you would like to review and manually approve the GoGetter before he or she claims your job.
Favourite GoGetter - Select between sending the job to all GoGetters in your Favourite GoGetter list or only choose to send the job to a single Favourite GoGetter. The job will be accepted by Any GoGetter after a maximum of 10 minutes.
Trained GoGetter - This is a GoGet Business feature that allows you to send your job to a pool of pre-trained GoGetters. Learn more here.
How big is your delivery - Select the estimated size of your item. This includes items that require extra labor and effort such as big boxes of books, cartons of water etc.
Additional notes for the job - You can add more details to your job here, if you are sending items feel free to include quantity, weight, size of items or if you are requesting for part time help please add anything helpful for the GoGetter to know about the job.
GoGetters are required to keep a clear view to the rear by not packing the item above the line of the window of their car while doing GoGet job. Motorcyclist are required to ensure their bike can maintain a balance while they are delivering your item. Here's some quick guideline on our GoGetter's vehicle capacity:
Car: Max 150cm x 50cm x 50cm, total 100kg weight
Bike: Max 33cm x 32cm x 33cm, total 10kg weight
*Capacity for SUV/MPV varies, however, the total max weight of the load is capped at 100kg.
The job fee will be shown to you beforehand. Click on "Create" to submit your job!
Step 3: Payment methods
You have two options to pay the GoGetter - Cash OR GoGet Credits
Click here to learn more about types of cashless payment options on GoGet.
How to purchase credits?
- Click on "credits" or the wallet icon on the top right hand corner.
- Purchase or key in your desired top up amount.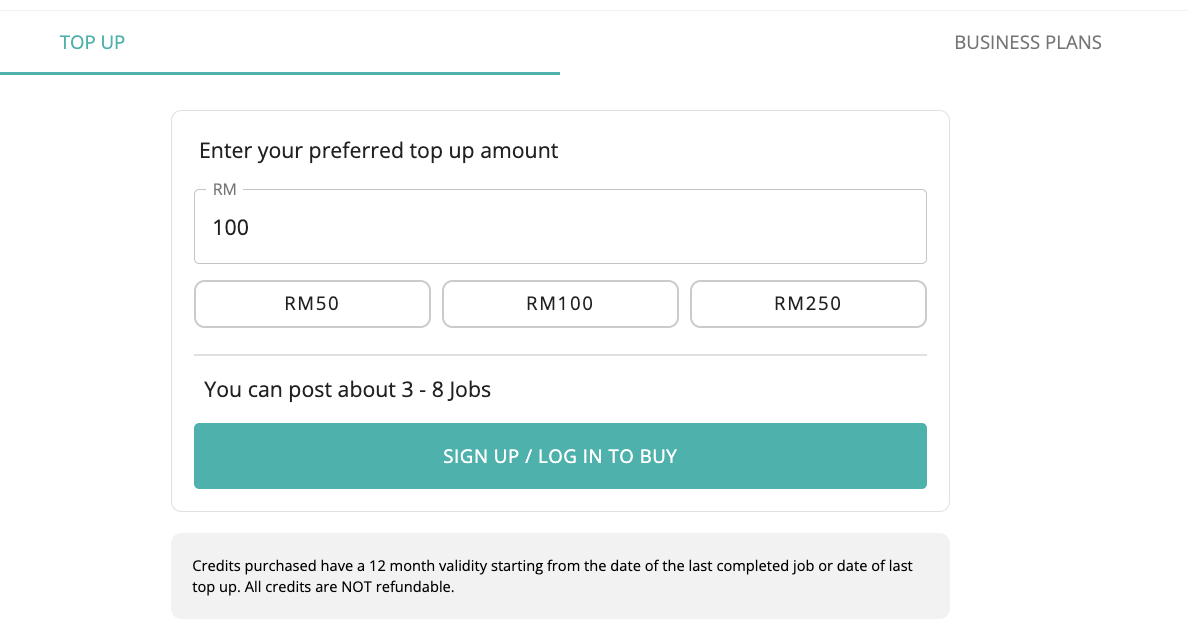 If you are a business owner and would like to set up a business account, upgrade instantly by clicking on 'Business Plans' and topping up the amount that you feel might suit your needs best.
Step 4: Sit back, relax and wait for a GoGetter to claim your job!
Here are some final tips for you:

Cancel - You may cancel the job if the GoGetter has not completed the first task. If you cancel last minute, you may review the terms and conditions for additional charges here under "Responsibility & Additional Charges".
Report - You may report the job if you are having issues at any stage of the job progress. Kindly allow 1 working day for our operations team to revert back to you.
Edit - You may edit the job details anytime unless the GoGetter has already completed the task.
Duplicate - Have recurring jobs? Simply click on duplicate and your job and job details will be duplicated in a new job.