Contactless Delivery is the act of actively taking measures to limit close body contact to third-party individuals. It is compulsory to perform contactless delivery during this Movement Control Order period. Currently, all of our GoGetters are practising contactless delivery, hence your kind cooperation in making every effort count is needed.
Please find our general guideline on contactless pickup station: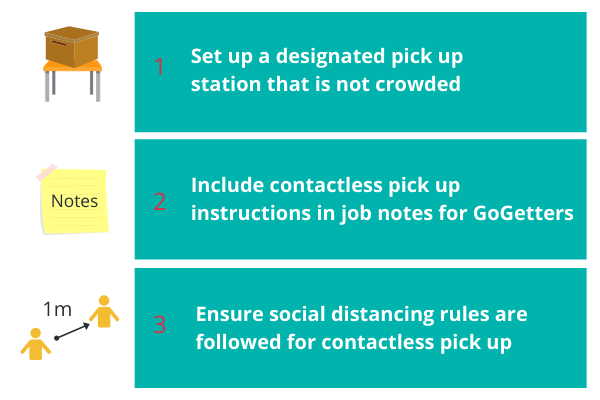 Merchant must set up a designated pick up station to hand over the goods with a clear label on the item. E.g. "Order ID 12345", "This parcel is for GoGetter Joe", "Receiver name: Siti, rice x1" (insert photo with an example of pick up station)

If your item is temperature-sensitive, you can take the item out from the fridge when GoGetter arrived.

All packaging has to be sealed tightly to ensure it won't be contaminated.

Please place the item on the pickup station, and allow GoGetter to come forward while the staff step back.

GoGetter and staff should maintain at least 1m away from each other during contactless pickup.

If your pick up location is normally very crowded and busy, kindly ensure the pickup station is set up at a less crowded place.

You can tape the floor to set up a queuing line to ensure GoGetter is keeping at least 1 meter away from each other while waiting for the item.

You're encouraged to take the temperature of the GoGetter and record down their temperature for your kind perusal. If the GoGetter has a temperature of higher than 37.4 or showing any severe symptom, please cancel the job and we will get you a replacement for this job. If you're charged any cancellation fee, please report and we will refund to you.

You may print out the label of the pickup instructions and paste it on the wall for easier

readability

.

You may also include contactless pickup instructions in job notes, attach a photo of your pick up location, and upload it in GoGet job as a reference for GoGetter. You can save this as your template so you can reuse the same SOP easily! Click here to learn more about the template feature.

Please ensure that your staff and every personnel at the pickup point is wearing a mask.

Please do not hesitate to report to GoGet if any the GoGetter is not wearing a mask or doing contactless delivery. Click into the job, scroll to the bottom and report the job with "The GoGetter didn't perform contactless delivery/ was not wearing a mask."
Example of Contactless Delivery / Pick Up to practice Social Distancing:-
Your kind cooperation is needed so that we can minimize the spread of COVID-19 in Malaysia!
Please find some best practice example by the community: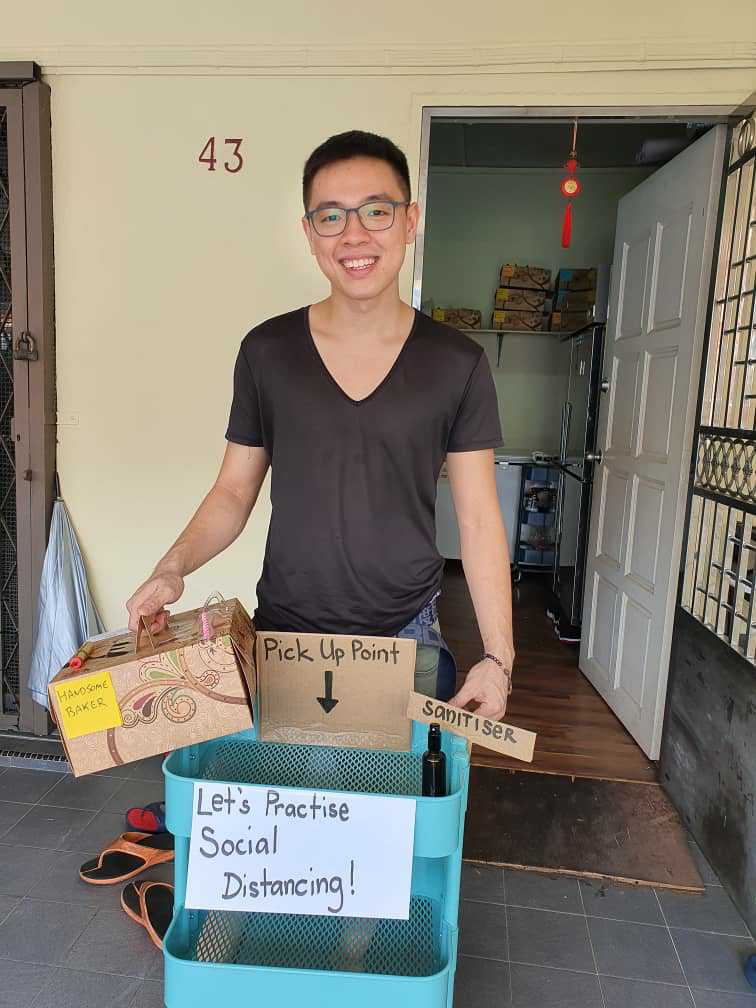 Photo Credits: Tan Yi Ming (Cake Tella)
Label your pick up location with lines to ensure everyone is practicing social distancing while queuing to get the item.
All users are managed by our community principle. We value good experience and quality of users and jobs. This is to ensure safety, reliability and that all users are happy. Let's do this together to stay safe!