You can use GoGetters to be your personal assistant or extra teammate at work: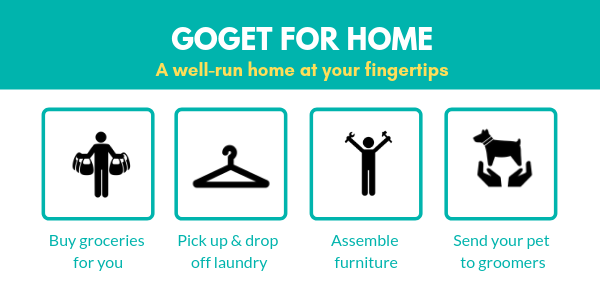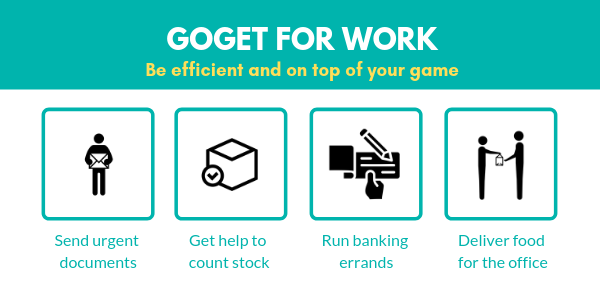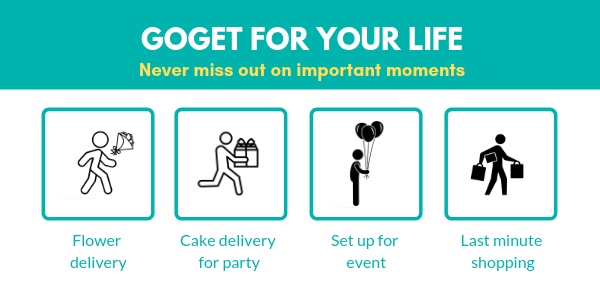 For your business needs:
Stay flexible with your hiring, the GoGet way. With GoGet Recruit, you can now hire to fill vacancies for longer term over a month or longer!
Hire for a variety of non-executive roles on GoGet Recruit ranging from the departments of Logistics, Sales/Marketing, Admin and Operations. Learn more about GoGet Recruit here.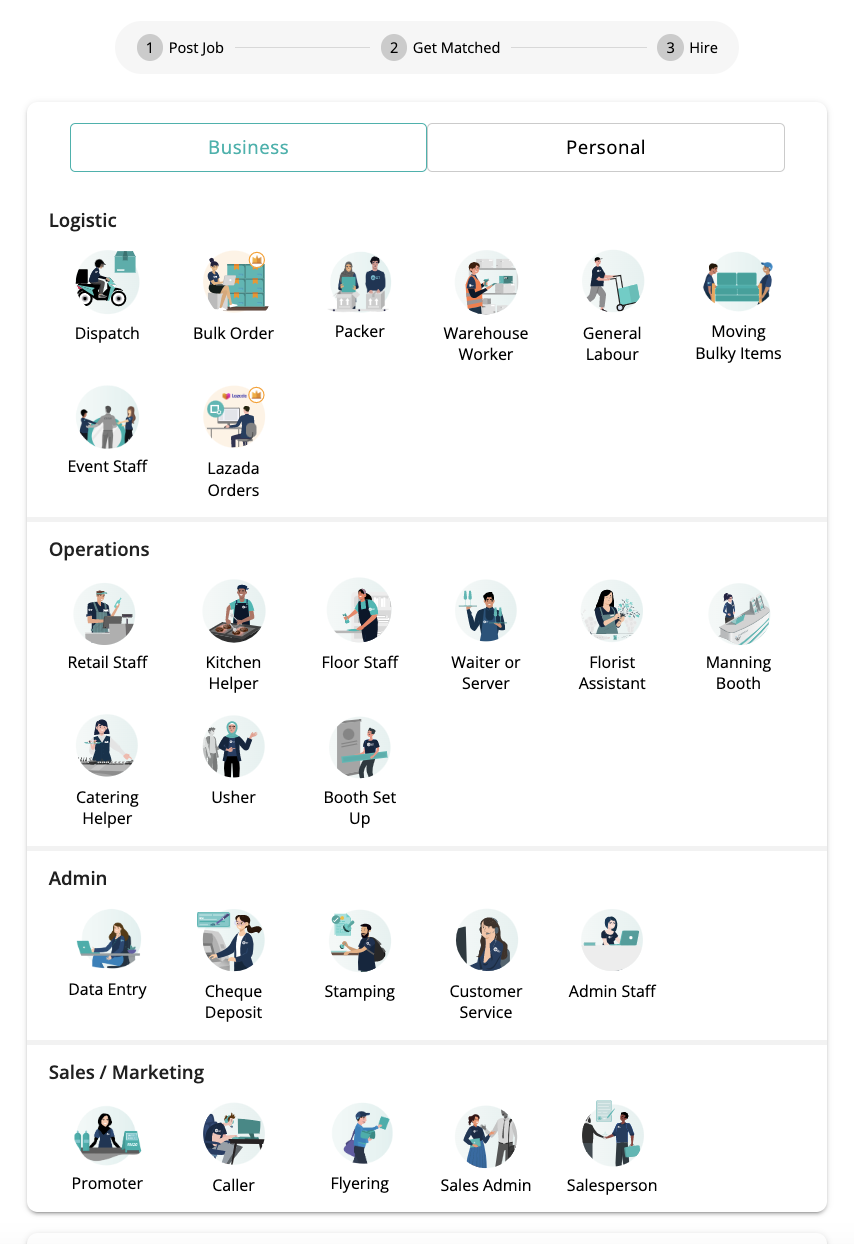 Type of jobs you can hire under GoGet Recruit
Admin Staff
Caller
Catering Helper
Customer Service
Data Entry
Event Staff
Floor Staff
Florist Assistant
Flyering
General Labour
Kitchen Helper
Salesperson
Packer
Promoter
Retail Staff
Sales Admin
Waiter or Server
Warehouse Worker
For your personal needs: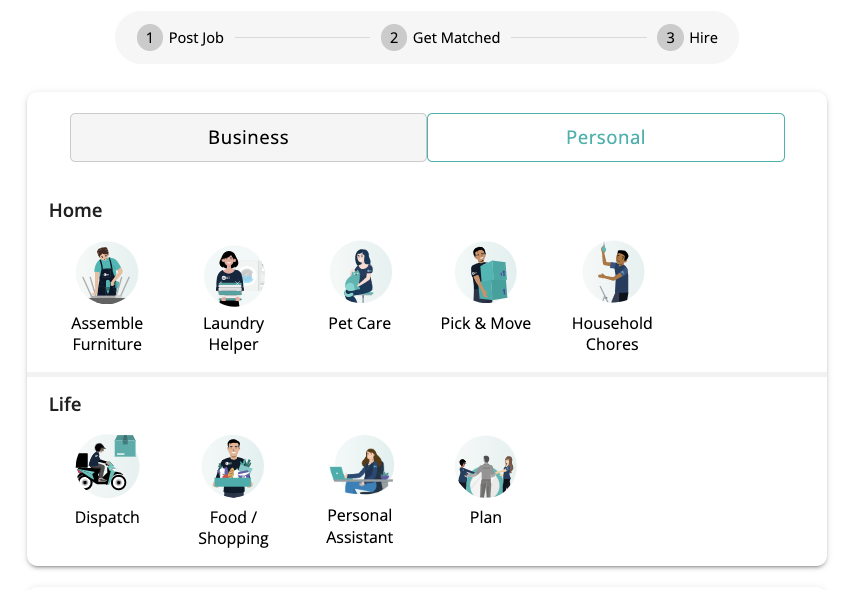 For dispatch jobs, GoGetters are required to keep a clear view to the rear by not packing the item above the line of the window of their car while doing GoGet job. Motorcyclist are required to ensure their bike can maintain a balance while they are delivering your item. Here's some quick guideline on our GoGetter's vehicle capacity:
Car: Max 150cm x 50cm x 50cm, total 100kg weight
Bike: Max 33cm x 32cm x 33cm, total 10kg weight
*Capacity for SUV/MPV varies, however, the total max weight of the load is capped at 100kg.
Type of jobs NOT allowed
Picking up passengers with GoGetter's own vehicle
2. Any form of illegal or criminal activities including
purchasing & transporting illegal substances
committing robbery
transporting illegal goods such as endangered animals, harmful weapons etc
kidnapping and human trafficking
computer or software hacking
3. Doing something for a third party that are not allowed or any acts of dishonesty
Taking medical certificate (MC) on behalf of someone else
Queuing up for a third party when it is clearly stated that it is not allowed (eg: queuing to take number to renew passport)
Sitting for an exam on behalf of someone else
Asking for GoGetters help to complete assignments or homework
Requesting GoGetter to provide fake information/testimonials
4. Using others personal information to purchase items (eg: sign up for phone plan)
5. Requesting for additional "service" on our app including any job that involves body, physical contact (eg: body massage)
6. Spying or stalking on others
7. Using GoGet as a dating/socialising app (eg: posting jobs to look for girlfriend/boyfriend or companion for movies, coffee)
8. Using GoGet as advertisement/listing platform to source for customers to purchase your service or product (eg Multilevel Marketing, Insurance Products, Financial Products, ask GoGetter to refer someone to you for commission in return).
9. Credit top ups or purchase currency (e.g molpoint, molpay, razergold, razerpay).
10. Jobs that does not adhere to social distancing principals during CMCO (Conditional Movement Control Order) period.

11. Jobs that require GoGetter to collect cash and deliver or transfer to another person. Read more here.
12. Shopping jobs that require GoGetter to make upfront payment of > RM1,000 per job.

13. Exchange of purchase from peer to peer. (eg Requesting GoGetter to make payment to an individual without a store/physical business premise and official receipt in exchange for items).
14. Dispatch jobs posting as Short-term Helper jobs.
*Disclaimer: these are only a short list of jobs not allowed to be posted on GoGet. Any postings deemed unsuitable to be posted on GoGet would be deleted. GoGet reserves the right to take necessary action on any poster/GoGetters who post or carry out jobs that are not suitable to be posted on GoGet. This is to ensure quality jobs and maintaining a safe environment for the community.