Q1: How do I withdraw my savings? And how long it will take for me to receive my money after withdraw?
You can request for your money back anytime with the SOS button and Pod will be sending your money back to you within 24 hours. Bank will take 1-2 Business days* for the transfer to be reflected in your bank account.
*this excludes weekends and public holidays.
By withdrawing your money from Pod, you will automatically be starting a new savings journey with RM0.00 in your Pod account.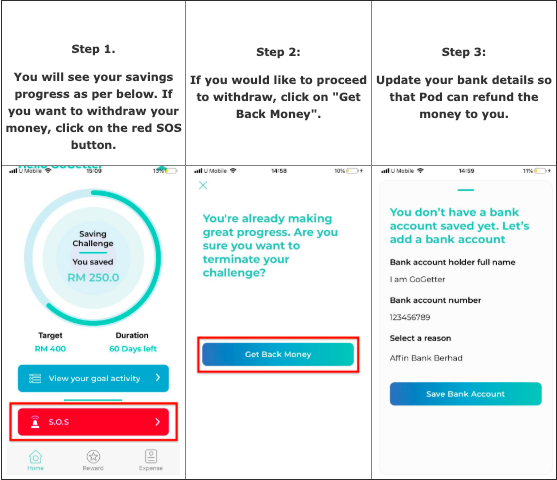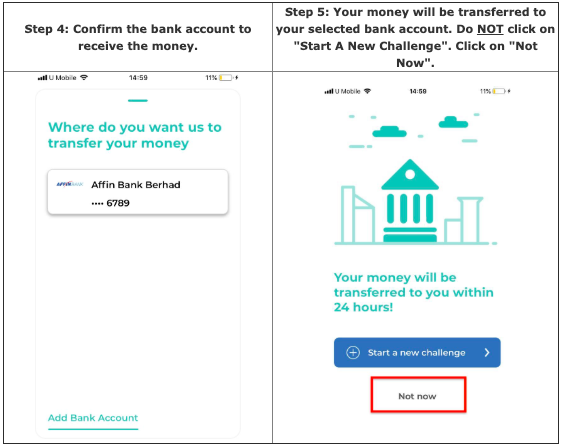 Q2: Can Pod or GoGet help me to withdraw my Pod savings?
No, you can withdraw the savings by clicking on the S.O.S button. Please refer to step-by-step guide in Q1.


Q3: Can you help me to cancel my GoGet savings?
No, if you would like to cancel your savings, you will have to wait for your savings to be reflected in Pod savings app. Then, you can click on the S.O.S button to withdraw.
Q4: Do I have to withdraw after I meet my goal?
No, you do not have to withdraw after you meet your goal, but you have to update your goal target to a higher amount. You will receive a text from Pod to confirm if you would like to increase your goal target when your savings is higher than your goal target.
Q5: I withdraw on Friday and still haven't received my money yet.
Kindly note that standard bank processing times will apply, subject to weekends and public holidays. If you do not receive your money during the next working day, please reach out to Pod directly.
Call/ Whatsapp: +6016-6241579
Email: info@usepod.com
Q6: Can I do partial withdraw of savings?
No, you are unable to do a partial withdraw on Pod Savings app. You will have to withdraw the full amount.