This insurance policy by CHUBB is a group policy that cover GoGetters that are on GoGet jobs.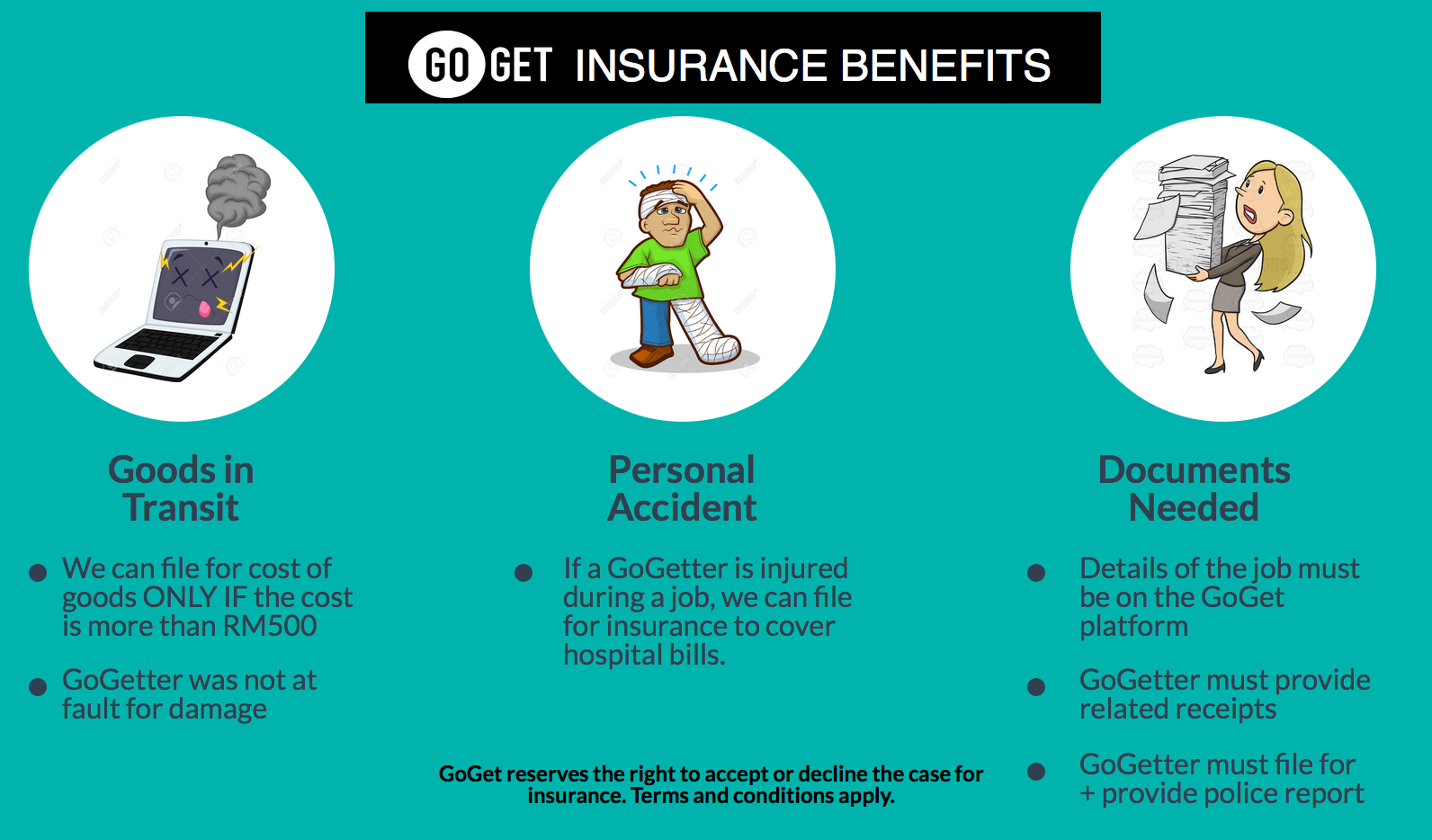 It is vital to notify GoGet in a timely manner (within 24 hours of the event).

The time of the event has to be established within the police report.

Notifying GoGet must be done via formal communication channels: email (Details below)

Delay in notification may result in loss of coverage if the reporting provisions of the policy are not strictly adhered to.

Notify GoGet immediately with the following details:
Date & Time of Accident/Loss

Location of incident

Brief description of the Circumstance/Claim

Estimated loss / potential damages

Copies of any Letter/Demand/Summons

Name & contact details of Defence Counsel if any

All other information required by the insurance provider (please refer to the attachment)
* The unavailability of any of the above document/information should not hinder the NOTIFICATION
What does the insurance cover?
| | |
| --- | --- |
| Table of events | Benefits |
| Accidental Death | RM50,000 |
| Funeral Expenses | RM3,000 |
| Coma | RM1,000 |
| Dependent Child Supplement | RM5,000 per child, RM10,000 per family |
| Trauma Counselling Compensation | RM500 per session (RM3,000) |
| Snatch Theft | RM250 |
| Credit Card Indemnity | RM1,500 |
| Ambulance cost | RM500 |
| Dengue Recuperation | RM1,000 |
| Get Well Benefit | RM500 |
| Third Degree and Second degree Burns | RM10,000 |
| Fractured Bones | RM0 |
| Medical Expenses for Treatment by Physician | RM1,000 |
| Accident Hospital Income | RM50 per day (30days) |

Please refer to the details of the insurance coverage [Schedule of benefits: here] and [Personal Accident Policy Wordings: here].
Policy Exclusions
1. You may not claim insurance if you are under sixteen (16) years of age or aged over eighty (80) years of age unless approved by the insurance policy provider.
2. The policy will not cover and pay benefits with respect to loss, damaged, liability, event or bodily injury which directly or indirectly is a result from:
- reckless misconduct
- illegal or criminal acts
- illness, disease, virus or bacterial infection other than bacterial infection that is a direct result of an accidental cut or wound.
- the intoxication of alcohol or drugs not prescribed by a physician
| | | |
| --- | --- | --- |
| | GoGet Insurance Coverage | Own insurance coverage |
| Vehicle problems | | ✔ |
| Damaged goods | ✔ | |
| Minor cuts, sprains, bruises | | ✔ |
| Ambulance cost | ✔ | |
| Coma | ✔ | |
| Fractured bones | | ✔ |
| Personal belonging (eg: mobile phone, wallet, bag) | | ✔ |
| Loss of limb(s) | ✔ | |
*These are some examples of events. Please review this document for a full list of coverage.
Required documents to submit a claim
*Before you submit a claim, please check here and here to confirm your eligibility to submit a claim
Name & NRIC

Date of accident

GPA claim form duly completed (please refer to attachment)

Original medical bills/receipts

Copy of Discharge Summary

Copy of police report (MVA)

Copy of valid driving license (MVA)
Do's and Don't When Loss Occurs
DO's
Lodge police reports within 24 hours for the following incidents: -
GoGetter involved in personal accident

Break in to your premises / robbery (includes hijacking)

Third Party Property Damage and / or injury
Take all reasonable steps to minimize damage or prevent more damage.

Retain damaged items for examination by Insurer's representative (loss adjuster).

Take photographic evidence of situation where possible.

Take down witnesses Full name as per IC, phone number and photo of IC (if possible)

Preserve all evidence of damaged property, which may be the subject of your claim. Whenever possible, take photographs with the date stamp.

Immediately contact GoGet through "Report" button in the job.

Any communication either verbal or written (such as letter of demand, writ & summons) from the third party or their representative should be immediately notified to GoGet.

Keep all receipts of transactions, medical bills and repairs.
DONT'S
Delay in notifying GoGet.

Proceed with repair work without discussions with Insurer's representative (loss adjuster) except in the event of emergency.

Offer, admit or promise to make any payment in the event of third party claims made against you without the prior consent the insurers, as otherwise your legal position may be prejudiced
GoGetter's safety is our top priority! Hence, we encourage GoGetters to have their own insurance coverage as our insurance policy only applies for severe cases. Please refer here for more details regarding the policy and list of exclusions. All final decisions regarding claims will be subjected to review by our insurance coverage provider, not GoGet.
Email: Contact@goget.my
Note: We recommend you to purchase on-demand personal accident insurance for extra coverage (this is optional) for less than RM1 per day! Find out more here.