At GoGet, the safety and security of GoGetters are our top priority. As a platform provider, we must protect the community that joins GoGet to earn money through honest hard work. To ensure quality jobs are posted and to maintain a safe environment for the community, GoGetters are allowed to flag jobs that are not appropriate.
Type of jobs not allowed
1) Picking up passengers with GoGetter's own vehicle
2) Any form of illegal or criminal activities including
purchasing & transporting illegal substances
committing robbery
transporting illegal goods such as endangered animals, harmful weapons etc
kidnapping and human trafficking
computer or software hacking
3) Doing something for a third party that are not allowed or any acts of dishonesty
Taking medical certificate (MC) on behalf of someone else
Queuing up for a third party when it is clearly stated that it is not allowed

(e.g: queuing to take number to renew passport)

Sitting for an exam on behalf of someone else
Asking for GoGetters help to complete assignments or homework
4) Using others personal information to purchase items (e.g: sign up for phone plan)
5) Requesting for additional "service" on our app including any job that involves body, physical contact (e.g: body massage)
6) Spying or stalking on others
7) Using GoGet as a dating/socialising app (e.g: posting jobs to look for girlfriend/boyfriend or companion for movies, coffee)
8) Jobs looking for long term help / full time employment to work for more than 7 days consecutively (e.g: accountant, consultant).
9) Using GoGet as advertisement/listing platform to source for customers to purchase your service or product (e.g Multilevel Marketing, Insurance Products, Financial Products, ask GoGetter to refer someone to you for commission in return)

10) Credit top ups or purchase currency online (e.g e-wallet reload, molpoint, molpay, razergold,razerpay).

11) Jobs that do not adhere to social distancing during the MCO (Movement Control Order) period.
12) Jobs that require GoGetter to collect cash and deliver or transfer to another person. Read more here.
13) Shopping jobs that require you to make an upfront payment of more than RM1,000 per job.
14) Exchange of purchase from peer to peer. (e.g Requesting GoGetter to make payment to an individual without a store/physical business premise and official receipt in exchange for items).
15) Dispatch job that requires you to pay upfront. Get the Poster to post a shopping job instead.
16) Dispatch jobs posting as Short-term Helper jobs.

For more information on jobs that are not allowed on GoGet, please refer to this link.
Examples of Scam Jobs
Real case scenario: Poster requesting for GoGetter to pay a RM500 deposit on his/her behalf upon collection of the item and get reimbursed later upon delivery.

How to flag illegal/inappropriate jobs
If you saw a job that is not appropriate and would like to flag it to GoGet, follow the below steps:
Step 1: Claim the job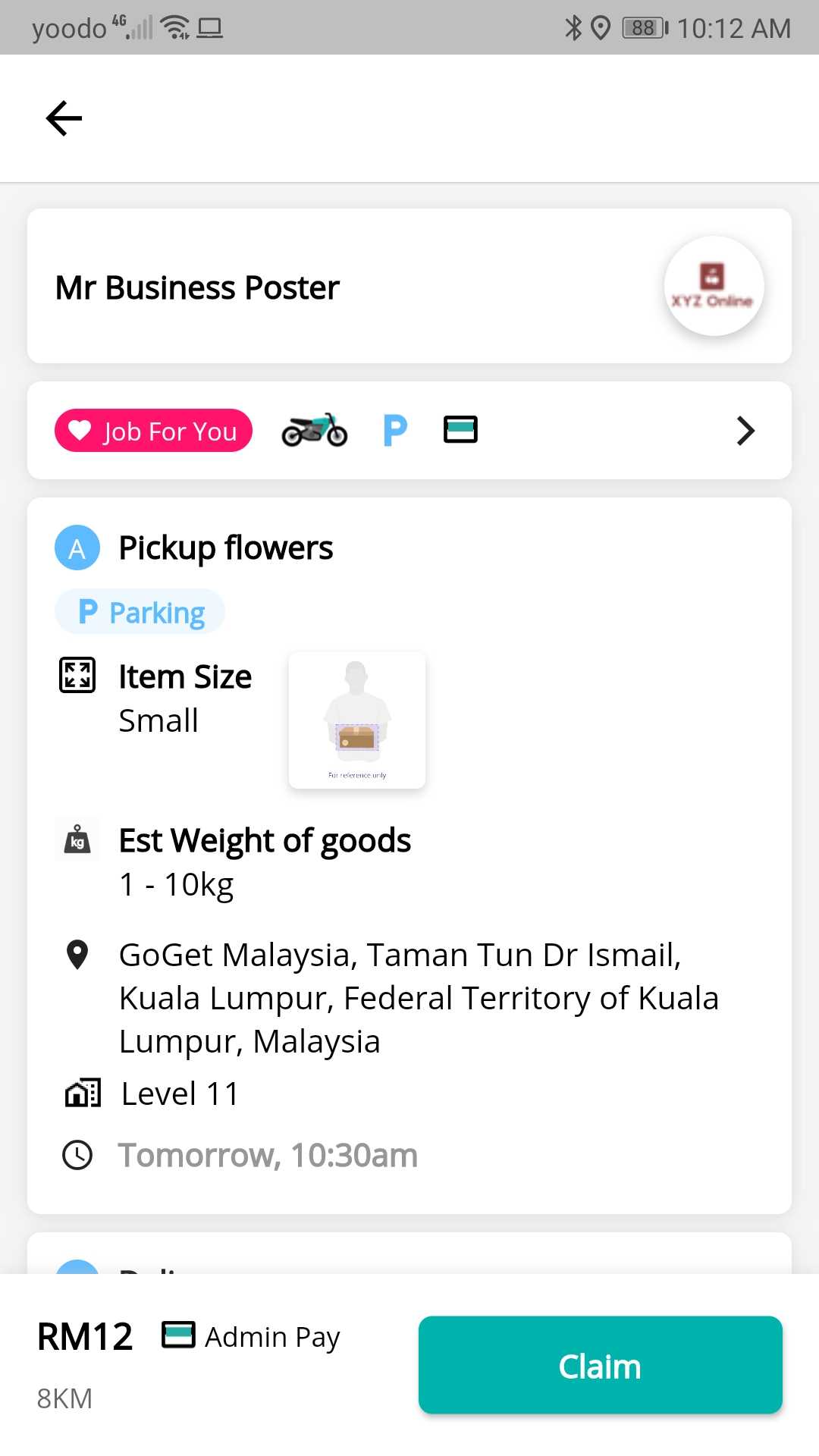 Step 2: Cancel the job with reason:
This job is not suitable to be posted on GoGet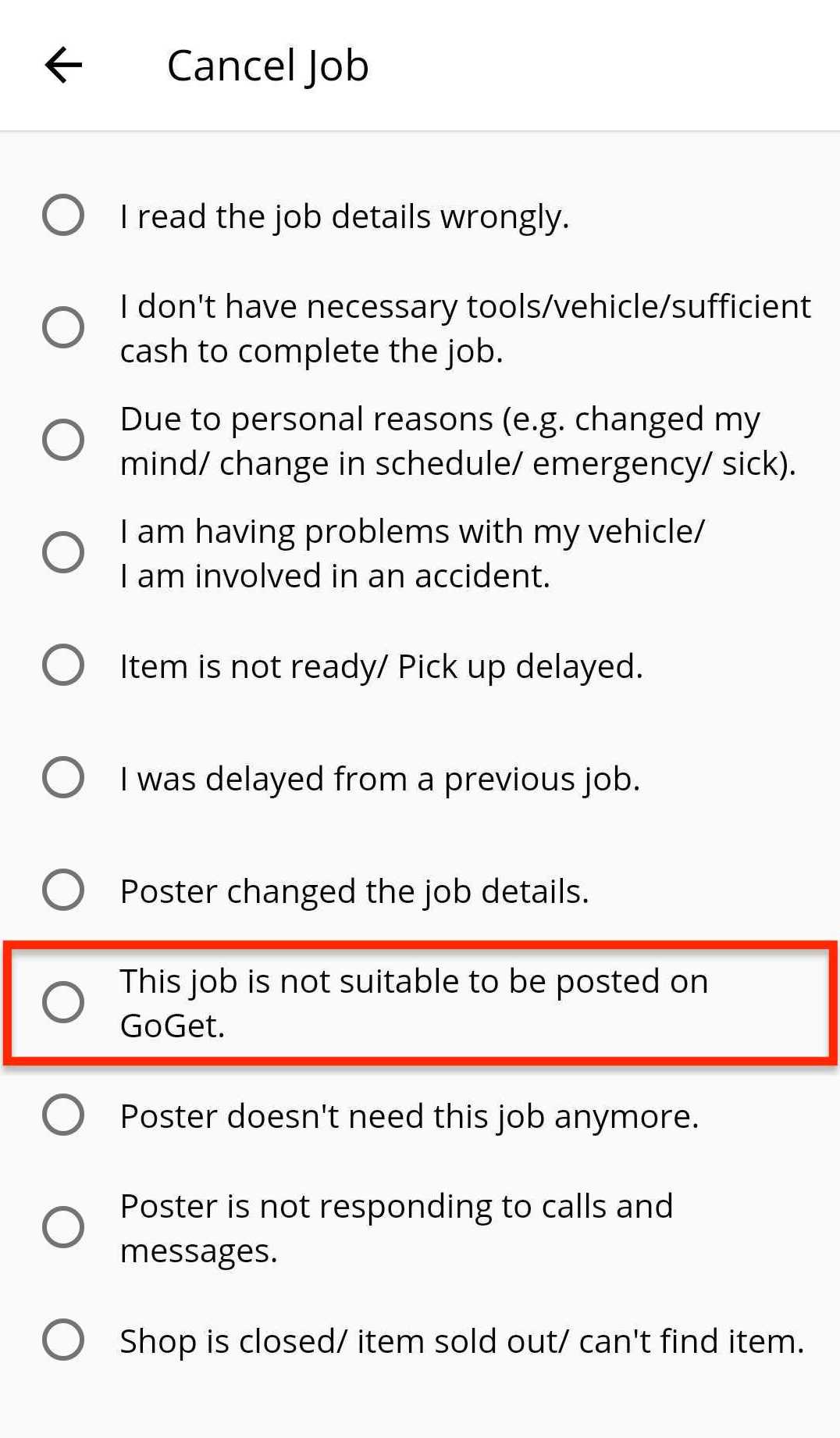 Once you cancel this job with the above reason, this job will be "Cancelled" in the system and it will not be be visible to other GoGetter.
Note: This cancellation reason is strictly for jobs that do not comply with GoGet policies. If there is an abuse of this cancellation reason, GoGetter will receive a strike upon further investigation.