Feel proud and stand out in the crowd by wearing these GoGetter merchandises! Get yours today.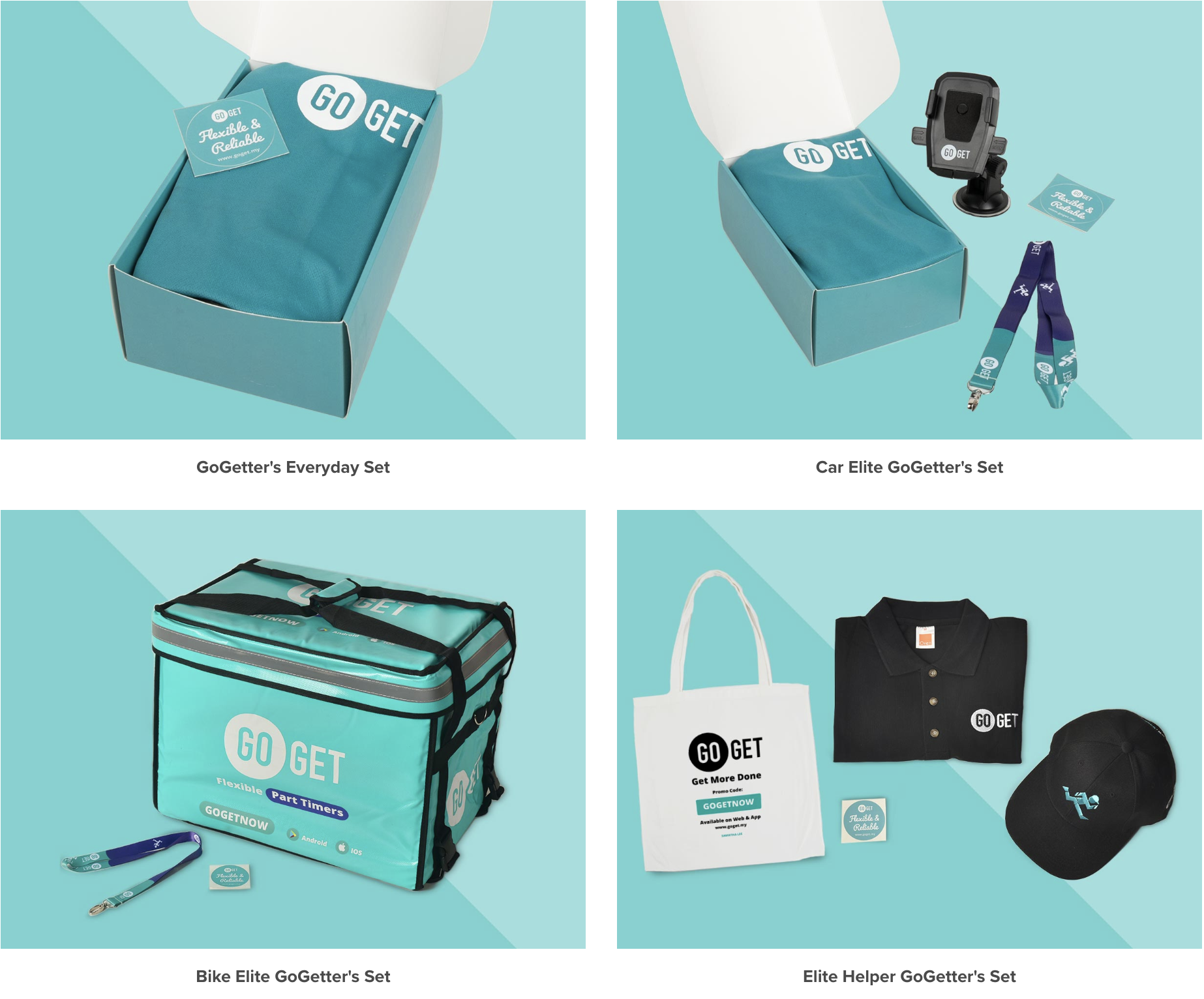 Click on image to open Photobook site to purchase your GoGetter merchandise now.
Click on image to open Photobook site to purchase your GoGetter merchandise now. Buy only what you like.
How does it work?
STEP 1: Visit https://photobook.com.my/goget.
STEP 2: Select the merchandise you want. You can choose between bundle kits or ala-carte. See the table below for a step-by-step guide on how to place an order.
Bundle Kits
Ala-carte

Click on 'PERSONALISE'.

Click on 'PREVIEW'.

For personalisable merchandise, you may insert your name or any text you wish. The text that you insert will be printed on the item.
Click 'ORDER' to confirm your order.

If the merchandise you chose is non- personalisabe, you may proceed to select 'ORDER' to confirm your order.

You will be prompt to login to Photobook before you can place an order. For a faster login, you may choose to continue with Facebook or Google. Alternatively, you may choose to create an account manually.

Merchandises that you have successfully ordered/personalised will appear here:

Enter 'Voucher Code' (if you have any) to redeem merchandises for free or at a discounted price. You will receive voucher code if you qualified for incentive programs such as Elite GoGetter programme and Social Media contests. Stay tuned for announcements in your GoGetter app!
Click 'NEXT' to confirm your order.

Provide your shipping address and select your preferred mode of payment. Follow the check out steps to complete your order.
Frequently Asked Questions (FAQ)
Q: Can I walk-in to buy GoGetter merchandises?
Q: When will I receive my order?

A: Standard timeline for average production and delivery of goods is within 7 to 14 business days, upon successful placement of order and payment made directly to Photobook. GoGet shall not be responsible for any delays caused by third parties utilized by GoGet or the inability of such third parties to provide or deliver their goods or services to GoGet.

Q: How will I know if my order has been processed and delivered?

A: After you have checked out, you will be notified via email with an order number and you may also check the progress of your order in your Photobook account. After it has been shipped, another email will be sent to you with the tracking number, which you can use to track the status of your items at the respective courier website. Details will be provided to you in the same email. Read more here.

Q: Can I pay delivery charges on COD (Cash on Delivery) basis?

A: No. All payments must be done online. You may choose to pay via online banking or e-Wallet (refer image above for payment options).

Q: I am from outside of Klang Valley. Can I order GoGetter merchandises too?

A: Yes! Our partner, Photobook ships to most areas in Malaysia and other countries. You may check the estimated shipping rates here.

Q: How will the shipping fee be calculated?

A: Shipping fee is decided and charged by Photobook. However, we've striked a deal for you so that you can get the GoGetter merchandises shipped to you at a cheaper rate! See table below:-

Ala-Carte Merchandise

West Malaysia (Semenanjung)

Amount (RM)

East Malaysia (Sabah & Sarawak)

Amount (RM)

Item 1
8
13
Item 2
6
8
Item 3
6
8
Item 4
FREE
FREE
Item 5
FREE
FREE
TOTAL
20
29

A: This will be the sample shipping fee calculation if you wish to purchase a bundle kit and ala-carte merchandise:-

Merchandise

West Malaysia (Semenanjung)

Amount (RM)

East Malaysia (Sabah & Sarawak)

Amount (RM)

Bundle Kit
10
15
Ala-carte 1
8
13
Ala-carte 2
6
8
Ala-carte 3
6
8
Ala-carte 4
FREE
FREE
Ala-carte 5
FREE
FREE
TOTAL
30
44

A: Shipping charges for a bundle kit is only RM10 each!

Q: What does it mean when the Photobook site says "RM20 flat-rate shipping fee when you buy up to 5 items!"?

A: This is the special deal we managed to strike with Photobook just for you! You will maximise your savings on the shipping fee when you order 5 ala-carte items because it is capped at RM20 only (refer table above). However, if you purchase 6 or more ala-carte item, this special rate no longer applies and Photobook will charge their normal rate which has no cap on the shipping fee.

Q: What is the return policy?

A: All sales are final and cannot be returned or exchanged.

Q: What is Photobook and how does it work?

A: Photobook Worldwide Sdn Bhd. ("Photobook") is GoGet's appointed partner in providing an online platform for GoGetters to browse and order personalised GoGetter merchandises

Q: I want to own GoGetter merchandises but I don't want to pay for them. Will GoGet give out free merchandises?

Q: What should I do if the merchandise received is different from what I ordered?

A: Please let us know about your poor experience by completing this 5-minutes survey form so that we can help follow up with Photobook. Our aim is to ensure you get the best experience possible when purchasing the GoGetter merchandise. Submit survey here.
A: You should also send email directly to Photobook's customer service team (support@photobookworldwide.com) and they will assist accordingly. Your email should provide these information:

Your name.

Your order number (can get this from your order confirmation email from Photobook).

A photo of the item you received as proof.

Issue you are facing (e.g. missing item/ wrong item/ wrong size).

Q: How do I personalise the GoGetter's Business Card?

Learn how to get your personalised referral code and QR code here: https://bit.ly/getyourqrcode and earn when your referees sign up with your code!