1. What do I need to set up my account for API Integration?
You have to a be GoGet Business account. You will then purchase prepaid credit packages via GoGet's app or website to top up credits.
2. How do I pay for my deliveries?
Payment for deliveries is cashless and will be deducted per job basis via GoGet credits in your account.
3. Can I integrate my e-commerce website with GoGet?
Yes you can. Click here to learn more on the technical information of API Integration with GoGet
4. What is GoGet's coverage for deliveries for API Integration?
Click here to for GoGet's coverage area for deliveries.
5. What is GoGet's SLA for on-demand deliveries?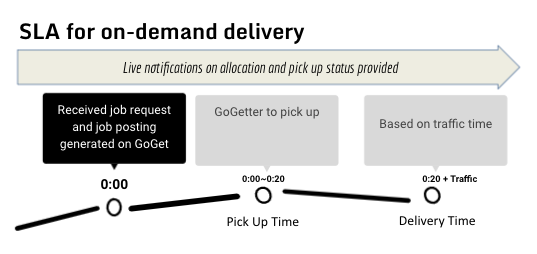 6. What are the types of deliveries for API Integrators?
- Premium Delivery: On-demand next-hour delivery with insurance coverage up to RM400. Deliveries are guaranteed daily from 8 am - 9 pm including public holidays. Click here for terms and conditions for Premium Delivery.
- Standard Delivery: 24/7 standard delivery service blasted to nearby GoGetters.
- Same-day Delivery: Same-day deliveries are more flexible deliveries. If your items are not in a rush, and as long as they are delivered within the same day of pick up, then go for Same-day to save costs. Select a time between 8am-1pm , Pick-up time is between selected time until 3pm, delivery will be completed by 5pm
- Bulk deliveries: Enjoy flat rate from RM7 when you have a large volume of deliveries. Click here to learn more on GoGet's Bulk deliveries
*Kindly note that you may integrate your site with any of the delivery type offered by GoGet. Deliveries can be posted as an on-demand job or they can also be scheduled in advance.
7. What are GoGet's delivery rates for API Integrators?
Click here for GoGet's rates