The Demerit Points System is designed to encourage you to provide consistent and reliable services to Posters. Happy Posters mean more job postings and more flexible earning opportunities for you!
What are Violations and Demerit Points?
Violations are actions that break GoGet's rules. You will receive Demerit Points if you break the rules. It is one way to keep track of your performance history as a GoGetter.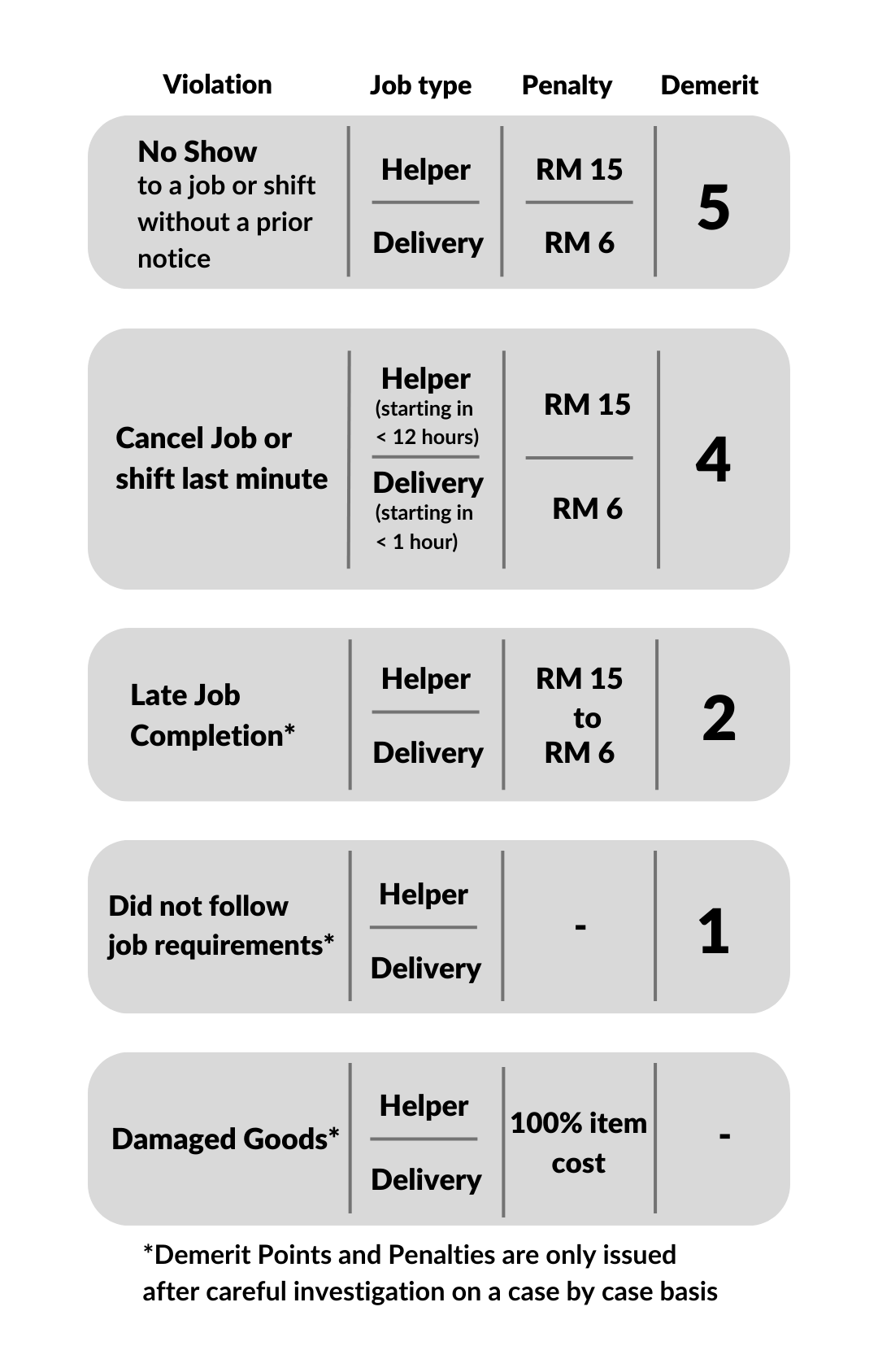 IMPORTANT:
Payment to GoGetter may be blocked temporarily while an investigation is on-going. Don't worry, GoGet Support will inform you via in-app message. All you need to do is respond to GoGet Support by following the instructions given.
Refer to the table below for more information about each type of Violation.
Violations
Description/ examples

No show

To a job or shift without notice

Claimed a job but did not show up. The job remains in your GoGetter app's "My Jobs" > "Claimed".

Asking the Poster to cancel the job instead of cancelling the job on the GoGetter app when you are unable to proceed.

Marking the task as "Completed ✅" in the GoGetter app but the task was not being performed accordingly.

Excessive delay in starting job causing Poster to cancel the job.

Cancel job or shift last minute

The action of cancelling a job or shift last minute includes:

Cancelling a Dispatch, Buy & Send job less than 1 hour before job start time.
Cancelling a Helper job or task less than 12 hours before job start time.

Late job completion

Late

to arrive or late in completing a job without valid reason.

Penalty charges are calculated 15 minutes after the job/task time stated in the GoGetter app. See charges

here

.

Did not follow job requirement

Asking

the Poster for a higher fee directly.

Claiming an "online banking" job or a job that clearly states that upfront payment is required but request for Poster to pay upfront prior to executing the job.

Request for Poster to change payment method from "online banking" to "cash on delivery''.

Not following instructions from Poster. E.g.

Sending the item to the wrong person.
Poster said the delivery will be a surprise but GoGetter still asked for money from the receiver which ruined the surprise experience.

Negotiate pick up/ drop off time with Poster or Receiver to accommodate your own convenience.

Did not deliver to the doorstep. "Parking" is marked for the task but GoGetter requested Poster/ Receiver to pick-up from the car/ lobby.

Did not follow vehicle requirements. Car/ SUV job but GoGetter went to the pick up location with a bike.

Damaged goods

Being

careless

at handling goods or transporting it, causing damage to the goods.

See charges

here

.
*Note that this is a non-exhaustive list. There may be other situations that the GoGet Admin constitutes as not upholding the community principles and will result in a Violation.
Can I appeal if I feel I was wrongly penalised?
You have up to 7 days to submit an appeal from the date the Violation was issued.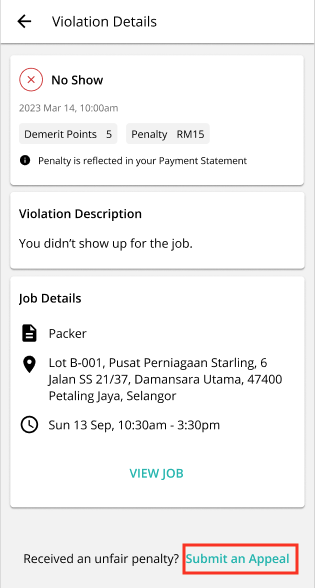 *Important: GoGet Support may require more supporting evidence for your appeal. You will be responded to via GoGetter app's "My Tickets". Kindly send the necessary evidence within 3 days of our response. Any appeals received outside this time period will be automatically rejected. This is to ensure all appeals received are responded to in a timely manner.
What is the most Demerit Points I can get?
Maximum 10 points at a time.
What happens when I get 10 Demerit Points?
You may be permanently blocked from 'Find Jobs'.
Can I remove Violations and Demerit Points?
Violations and Demerit Points automatically expires 30 days after issuance. If you feel you are penalised unfairly, you can always submit an appeal.
Will Violations and Demerit Points affect my bonuses and incentives?
No, always enjoy bonuses and incentives.
Why do Demerit Points expire after 30 days?
We believe GoGetters can learn from mistakes and are constantly improving themselves. By expiring Demerit Points, your Performance History will accurately show your current performance as a GoGetter.